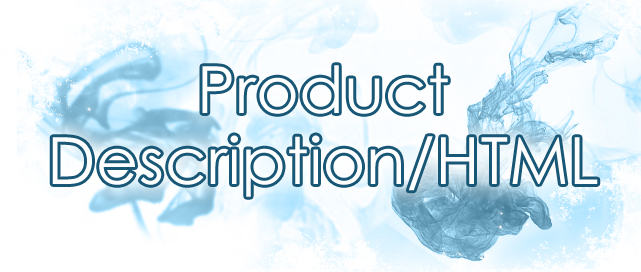 Every product you add to the catalog gets its own product info web page. For example, https://www.imvu.com/shop/product.php?products_id=# (where '#' is the product ID number of your product.) From this page, you can control various aspects of your product as well as add marketing/merchandising.
The base level of merchandising occurs on submission when you add the product name, image and profit. Some Creators add additional text to the description field of a product's info page.
However, some Creators like to go the extra mile and add pictures, movies and music to their pages with the hopes of accentuating the charm of the product. Sometimes, they also add links to other, relevant pages within IMVU like their catalog pages, other product info pages or avatar home pages. They do this by adding custom HTML to their product info web pages.
This tutorial teaches you how to get your beautifically created HTML into your product info page.
'Add HTML Description' link
On every product info page for products you've created, you will find a panel labeled 'Creator Tools'. In that panel is a link entitled, 'Add HTML Description'. Click on this link.

BATHE IN THE GLOW!
This will open that product's Add HTML Description page. On this page, you see three things you can interact with: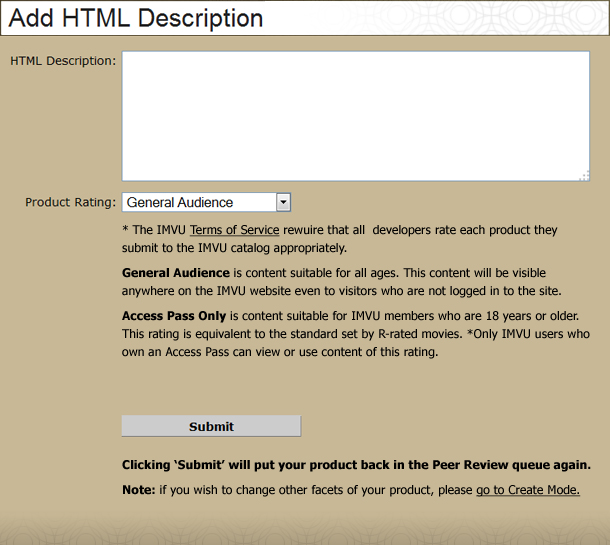 HTML Description
You type directly into this field. Your description doesn't necessarily *have* to be HTML.
Typically, Creators build their HTML in a program like Adobe Dreamweaver and then paste it into the HTML Description field. This is because programs like that allow you to preview your code.
If you have an existing description, you can always come back to this page and edit it directly.
Rating
The third required field is the Rating drop down menu. The IMVU Terms of Service requires that every Creator rate each product they submit to the IMVU catalog appropriately.
Every product available for purchase in the IMVU catalog has a rating of either General Audience or Access Pass Only. Here is what the ratings mean:
There is another rating, which, when applied to a product, causes it to be invisible and removes it from everyone's inventory. This is:
If your product is inappropriately rated, it will fail Peer Review and/or be flagged for review by a member of the community. So, please make sure you understand the Virtual Goods Policy before setting the rating.
Submit
When you've added a Description and chosen a Rating, its time to click Submit. This will bring you back to your product info page so you can verify your description.
If you have already Published your product, submitting a Description or Rating change will put your product back in Peer Review. To learn about Peer Review, click here.
Remember: you can always click 'Add HTML Description' again to edit your Description.