The IMVU Catalog is quickly approaching it second millionth product and it can feel daunting to introduce your new items when it has to exist within such a vast sea of competition. It can be hard to set yourself apart, but not impossible. Many of our most successful Developers have gained their status through a very calculated effort to develop a very specific look for their products and how they advertise them. Even if you are just starting out as an IMVU Developer, it is worth taking a few moments to think about how you want to present your work to the world.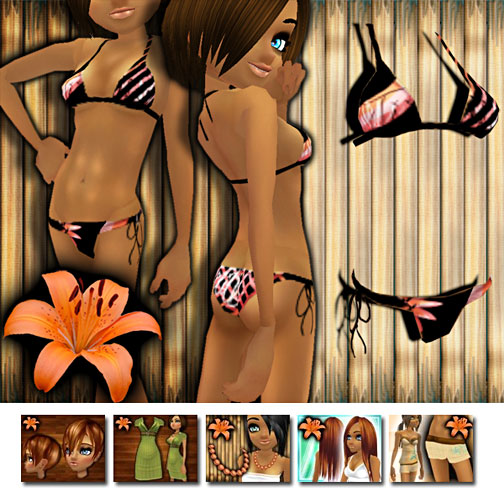 Consistent Quality & Developer Icons

Developer Tiigerlily is a marvelous example of an artist that has a very clear vision for her products, and the talent to communicate it through both her Catalog Snapshots and Product Ads. Tiigerlily is a veteran Developer who sets a high standard for creating attractive Avatar shots, and a strong product line. Her bright orange lily icon is easy to spot among the competing catalog snapshots, and her soft avatar screenshot do a splendid job of displaying her products in the best possible light. Tiigerlily also leverages her Homepage as a central place to communicate with her friends and fans, and also establish a clear and consistent identity for herself and her product line.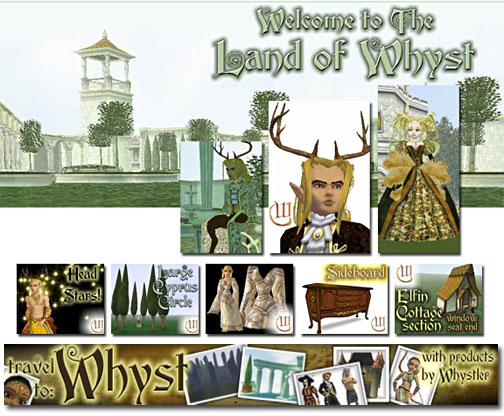 Creating a World with your Products
Developer Wystler has taken the notion of virtual products to a another level by creating not only merchandise but a fictional place for them to live in. Whystler offers us the Land of Whyst, and populates it with architecture, furniture, clothing, and even unique avatar heads and bodies. Whystler has an unmistakable style which is easy to spot in the catalog, no matter what category it lives in. Whystler also uses his signature "W" on his Catalog Snapshots and Ads to help reinforce his unique brand. These examples show just how consistent his work is, whether it is being displayed in a screenshot, Catalog Snapshot, or Banner Ad.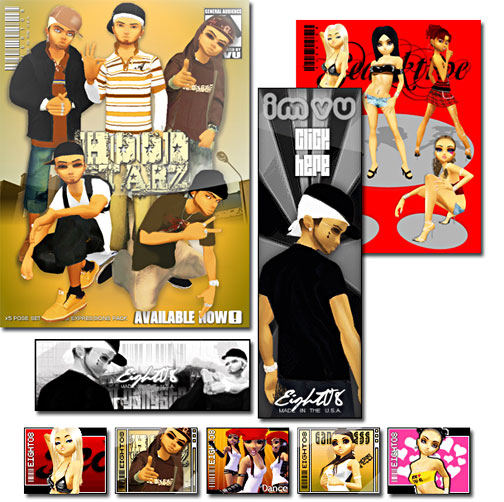 Cornering a Market



Developer Eight08Racer has nearly single handedly set the standard for Avatar Poses and Actions with his high quality work. Eight08Racer has a personal flare that can be seen in all of his work, from products and advertising graphics, to dynamic music videos.
Eight08Racer's offerings really push what IMVU's avatar's are capable of and he has his finger on what appeals most to our urban trend setting members.
His work retains his unique look even in the animated Catalog Snapshots that prove that even a small space can be used to draw your eye away for its more static Catalog neighbors. Check out one of Eight08Racer's videos to see just what is possible when it comes to promoting your work.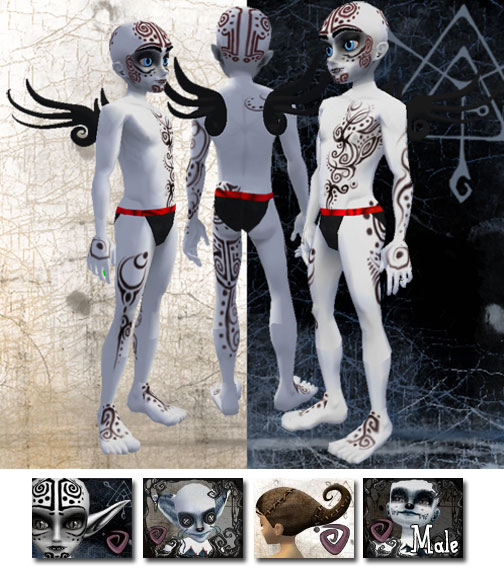 Finding Your Niche
One thing we have discovered at IMVU is that fulfilling the needs of a specific market, no matter how small, is a great way to make a name for yourself. Developer LittleCricket has her own unique style, one that has gained her a large following. It is no surprise since she has imagined an entire aesthetic universe for her designs to exist within, and consistently fills her Ads and Catalog Snapshots with her signature symbols and curling briers. It is easy to believe that her designs come from a Wonderland of her own design, and to purchase and wear them is to be transported into her strange and magical world.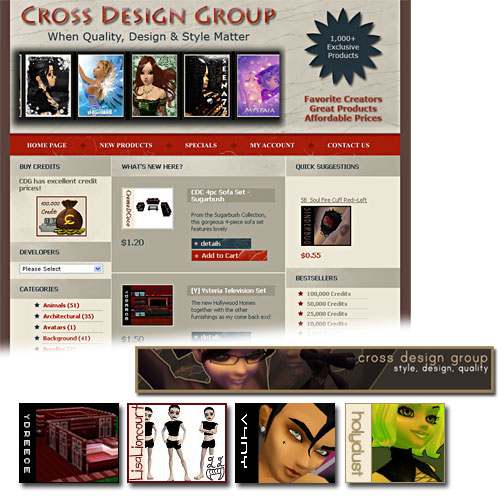 Taking it to the Next Level



Developer NevaCross has a passion and dedication to the creation of virtual worlds, but she is also a savvy business woman. Wishing to have more control over how her products were presented, and wanting to support her favorite fellow designers, NevaCross has created the Cross Design Group. Her site says it best with, "The Cross Design group is a partnership of Professional software engineers, 3D modelers, Texture Artists, and Web/Host/E-commerce Masters who are dedicated to bringing you the best possible products and experiences in the IMVU 3D Chat environment."
NevaCross has brought together her interest in the virtual with her knowledge of business and carved out her own way to showcase her own work and the products of her fellow designers.
These are just a few of the inspiring examples available in the IMVU Catalog if you start hunting around. With a little preparation and a focused effort, it is possible to hone your message and create a unique venue for your products. The time spent will only help set your work apart, and communicate to your customers what you have to offer, and what they might expect from future product releases. Best of all, with the help of Homepage messaging, and things like Forums, you begin a conversation with the community that supports and encourages your efforts.