Reminders before getting started on a Promotional Bundle*
We are accepting submissions for GA and AP Bundles as well as a AP Clothing Bundles. AP bundles follow the same guidelines as GA bundles, the exception being the product ratings/overall theme. Please include at least 15 products for all promotional bundles but no more then 25 products. AP Bundles should include at least 5 AP products
Please note that we are not accepting as many submissions as we did in the past, so try your best to make your bundle submission stand out from all of the other submissions.
Lastly, we'd like to remind you that submitting a GA or AP bundle for review does not guarantee that it will be accepted; our team will review it and get back to you with our decision.
If you have any questions regarding the new bundle requirements please email us – promobundles@imvu.com
Thank you and we look forward to new bundle submissions!
Promo Bundle Team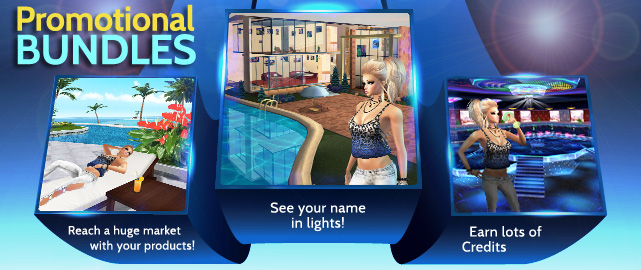 Required Materials
The items below are required in order for IMVU to accept a submission. The purpose of the informational items is to convey to the IMVU marketing team exactly what your PB contains.
Remember, before submitting the Promo Bundle: if your PB is a decorated room, you must decorate the room in your account *exactly how you want it to appear in the bundle*. Once you have done that, please put together an email with the following information.
Looking for a great way to promote your personal brand on IMVU? Leave the heavy lifting to IMVU, submit your Promotional Bundle today!
What is a Promotional Bundle?
A Promotional Bundle (PB) is a collection of virtual goods advertised to IMVU users using tools like website banner ads, website blue bars, emails, homepage messages, and IMVU News. PB's can be offered with virtual goods and/or credits. IMVU rewards Creators involved in the bundle with credits.
For example, if one of your products is included in a PB, you will receive full credit for your product with every bundle sold. And if someone uses a product derived from one of yours, then you'll get paid in credits, just as you would in a normal product sale.
Millions of people see the PBs, so it's a great opportunity to earn lots of credits quickly as well as grow your business via brand awareness. It's also just fun to see your name broadcast to so many people! You can take a peak at past successful PBs by visiting the bundle vault!
Who can submit a PB for review?
Any registered Content Creator!
What is the promotional bundle submission process?
What do I have to know in advance of submitting a promotional bundle for review?
There are several things to know in advance of submitting a promotional bundle. These include:
What is the room SLURP tool?
As mentioned above, IMVU has the ability to save a copy of the furniture decoration of any room and then make any necessary changes and enhancements. We do this using our 'Slurp' tool. When we use this tool, we make a copy of the particular styles and decorations in your submission, make any necessary changes and improvements, and then resubmit the new version into the bundle. This allows you to keep your original room, but also gives us the ability to make any changes which will help attract more customers and generate higher sales for you.
Outfit bundles?
IMVU currently does NOT accept GA outfit bundles. They just don't sell. If you have an idea for an AP outfit bundle, please send it our way.
What does a promotional bundle submission contain?
A PB submission contains both required informational items and optional marketing items:
Tips for a successful promotion
Let's face it: some bundles sell better than others. Usually, the reasons why are obvious.
And…that's it! Being part of a promotional bundle can be a wonderful, rewarding, and exciting experience. IMVU wishes you the best of luck with your bundles and encourages you to go crazy and unleash the power of your creativity! Who knows? Yours could be the next bundle IMVU promotes! Fame and fortune await you…so get out there and create!